Ad Blocker Detected
Our website is made possible by displaying online advertisements to our visitors. Please consider supporting us by disabling your ad blocker.
– Welcome to the University of Chicago Law School. My name is Victor Hollenberg, and I'm a third year here at the law school. I'm originally from Connecticut, but I'm proud to now call Chicago home. I want to thank you for taking the time to visit us online today. Along with some of my classmates, I'm going to show you around the law school, and hopefully you'll get a sense of just what it is that makes this such a special place to learn the law.
Right now, we're in front of the law school building on the University of Chicago's Hyde Park Campus, here on the South Side of Chicago. The university and the law school form part of a really terrific community, and I've been so lucky to have been a part of it for the last two and 1/4 years. One of my favorite parts about the law school is the sense of community that we have here, and the space that we're in right now, the Green Lounge, is a testament to just how strong that community is.
In normal times, on any given weekday morning, you'd walk in here and find your classmates, your professors, staff members hanging out with one another, talking about anything under the sun. Whether it be a really interesting case that somebody had to read for torts the other day or the Bears game last weekend, which, fingers crossed, was a win.
And there's a lot of events that take place on weekday mornings that really define the law school experience here. Whether it be Coffee Mess on Wednesday mornings, grabbing a coffee before class with some of your friends. Or on weekday afternoons, events like Wine Mess on Thursday afternoons, which is essentially a happy hour that brings the whole community together towards the end of the week. And even though we can't get together now due to COVID in the way that we might have last year or in previous years, we've managed to bring a lot of those experiences online in a way that really recreates just what it is that makes this such a tight knit community.
The classroom experience is really at the core of what it means to attend the University of Chicago Law School.
I spent a lot of time in this room, room two, during my 1L year. A lot of fond memories in here. Times I might have sweat a bullet or two. But walking into this room again, I'm reminded of just how much I grew during the course of my 1L year, how incredible the classes that I had, the faculty here were, and how lucky I was to get the chance to meet my classmates. Here at the U of C, we have a pretty small class size, so I had approximately 200 classmates as a 1L.
And even though the classes themselves were smaller, I had the chance to take a course or two at least with almost every single member of my class. So being in a room like this, surrounded by your classmates, learning from one another, learning from the faculty, being challenged is something that defines the University of Chicago Law School experience, and I feel so lucky to have had it, because I've grown as a thinker, as an advocate, and as a person.
And I know that the experience I've had in rooms like this will benefit me, not just as a 3L over the course of the next few months, but over the course of my career. – In your second and third years of law school, you're probably be spending a lot of time in rooms just like this. We're in room A right now, where I happen to have my clinic seminar, and where a lot of classes that have smaller class sizes tend to meet.
There are over 200 classes here at the law school that are available for 2Ls and 3Ls, taught both by core faculty members here at the law school, as well as visiting faculty and practitioners who come here to the law school to teach from across the country and the world.
And the academic experience here for 2Ls and 3Ls isn't just defined by the breadth of opportunities that are available to us, but also by the quarter system. So the quarter system essentially devised the academic year into three eight to 10 week terms, which is perfectly aligned, more or less, with the university's calendar. So you can take classes here at the law school, and you can also take classes– what we call across the Midway, on the other side of the park that divides the two halves of the University of Chicago campus. So you can take classes at the Booth School of Business or in some of the graduate departments.
And as a 2L and 3L, you're in charge. You decide what it is you want to take. And for me, that's just been a really incredible experience. I've been a part of a clinic, I've taken classes with practicing lawyers, and I've had small classes with faculty members who I've known since I was a 1L. And taken as a whole, it really allows you to choose your own path here at the law school.
One of the things that's really special about being a student here at the law school is the commitment to diversity of thought and diversity of experience. And I've really enjoyed being in a classroom where my past experiences were welcomed and invited, and I really enjoy the chance to learn from my classmates in an environment that values intellectual rigor and inquiry. – Hi, my name is Jessica Lee. I'm part of the class of 2021, meaning I'm going to be a 3L this year. I actually also did my undergrad across the Midway, so it goes to show, I really love UChicago.
So right now, we're in the classroom corridor, and usually during the school year, what happens here is Lunch Talks. So Lunch Talks are one of the reasons I came to UChicago and I chose the law school.
Usually what they are is during the lunch period, which is around 12:15 to 1:30, one of our many, many– I think we have over 60 student organizations– will put on a presentation, where they'll bring in a legal practitioner, a member a member of the faculty, a judge to come talk about something in the legal field or in the legal profession that's substantive and really cool. And so you come, they have these tables laid out here where you can get food, and then you get free lunch, and then you learn about something really interesting. So there are classrooms one through five or six, I think, up here in the corridor.
And if you go around the corner, where we're going to go next, I'm going to show you the courtroom and the auditorium. So this is the auditorium. It's the biggest room in the law school. So to give you an idea of how big it is, my class is around 190 people. The first time, I came here was orientation.
I remember looking around and saying, wow, my entire class is sitting here with me.
As the biggest room in the law school, it's used for, I guess, events you would expect big rooms to be used for. So like, for example, when James Comey came to speak last year, he spoke in his room. We used it for orientation, for large speakers, for town hall or class halls, like when your entire class comes together, and we have administration do panels and things like that. And now, I guess, with proper social distancing measures, it's been converted into a classroom.
So this is a courtroom. I personally think it's the coolest looking room in the law school, and a lot of our more litigation leaning activities happen in here. So for example, 2Ls and 3Ls can participate in moot court. Moot court happens right here. We have litigation classes, like trial advocacy.
Components of that also happen here. One really cool thing is that the Seventh Circuit, when they have oral arguments, sometimes they have it in here.
And so you come straight out of your class, come here, and then watch an appellate argument, which I think is really cool. And so now we're going to go back to the classroom corridor, and I'm going to go down it and lead you to the other side, which is where we have our clinics. So right now we're on the other side of the classroom corridor, and we're here in the clinical wing of the law school.
So a clinic is a chance for a 2L or 3L– I think our clinics are only open to 2Ls and 3Ls– to experiment with more practical applications of the law. So we have around 15 clinics.
They're both transactional and litigation, so you can do things ranging from working with Fortune 500 clients to doing criminal justice. I personally am in the Corporate Lab. I think it's a great clinic.
I am definitely more transactional leaning, so I don't go into the courtroom very often, but I'm involved with like doctor off business program, Law and Business Society, and also the Corporate Lab.
I really like the clinics because they give you a chance to get that experiential– those experiential learning credits that you, A, a graduate, but also B, to make you into a better lawyer. So now we're upstairs. We're on the second floor of the clinical wing. And as you can see behind me, this is a really cool space.
There are a lot of rooms that people can do work in, so this is a student work room. There are also conference rooms for taking conference calls scattered around the hallways. The hallways are also where the clinical professors have their offices, and I like how accessible they are. So it's really easy to develop a working relationship with your professor. – My name is Olivia.
I'm a current 3L at the law school. I'm originally from Denver, but I have now lived in Chicago for nine years, so I like to consider myself a Chicagoan, even though people who are actually from Chicago would strongly disagree. Here at the law school, I'm involved in a few things. Most importantly, I'm involved in the law school musical, which I'll be directing this year.
Hopefully we can pull it off as planned, and then I'm also on a journal.
So right now, we are in our law school library. As you can see, lots of books and tables behind me. A lot of these tables are where students will study in between classes or after classes. This is where I like to study with a lot of my friends after class. That way, we can still have some fun while we're getting all of our homework done.
So there are a few great things about our library. Namely, we have a lot of really, really great research librarians, and they are truly an invaluable resource. They are always there to help you research anything you need help with, help you find books.
If there's a book that you can't find in the library, they will go and find it for you, or they'll order it from other UChicago libraries. Or if the UChicago libraries don't have it, they will find it from some library throughout the country.
They also teach some classes here and always teach a couple of sessions of the legal research and writing class that everyone takes in their 1L year.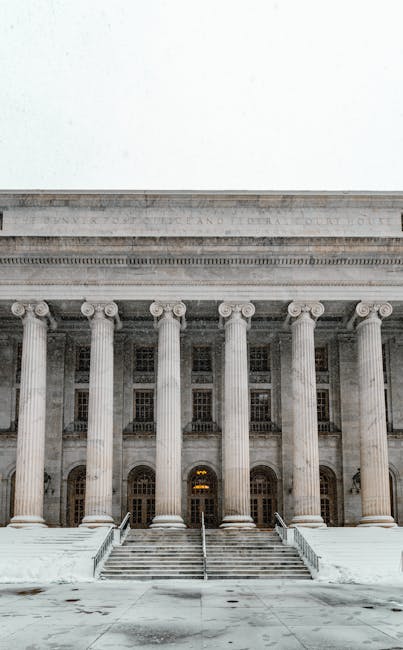 So they are so amazing, so valuable, and really, really great resources. We have a few other great things about our library, namely that there are a lot of study spaces around here. There's one behind me, which is kind of dark right now, but it has a big table, and that's where one of our librarians hosts Caf D'Angelo every Thursday morning, where there is cold brew, coffee, tea, hot chocolate, snacks, and that's really a great way to get to start off your Thursday morning. Those spaces can also be used for studying if you are meeting a big group.
And then we also have some extra computers if you need a second desktop. And we also printing down here. So that's our library. So now we've moved up to the fourth floor of the library. Floors four through six all have our many, many books and more study tables.
It's usually a lot quieter up here, so this is a great place to study if you really need to get some work done or take exams.
This is where I take all of my take home exams. It's so nice to have a nice quiet spot where I can really focus that allows me to really do my best. Also up here on the fourth floor, one of my favorite things is we have this nice little glass room to my right. This is a great room to sit, hang out.
There are usually puzzles in there for people who need to distress, and it's a nice place in the library that you can kind of talk without getting shushed by other students, which is a great benefit. So also up on the fourth floor, we have all of these carrels, and these are assigned to students who are on journals, who are research assistants, or who are conducting other big research projects. They are really great place to sit and study.
And if you are working on something like a big research project, they're a great place to leave and store all your books, which is really handy. But you don't need a carol to be assigned to you to use one.
Any carol that you see that's empty, anyone can come up and study at. I had a carrel that's assigned to me because I was a staffer on a journal. I didn't use my specific carrel super often, but I did a couple of times. And otherwise, it was just really nice to come up here and get some real work done. And then like I said earlier, this is also where I've taken all of my exams, which is another really, really great place to focus and get good work done.
And finally, our last really, really great feature about our library is that the professors' offices line the library. This is, I think, really great because it makes the professors really accessible. I've had many professors who have an open door policy, which basically means that if their door is open, you can walk in. We also conduct our on-campus interviews up here.
And so in between interviews, I would stop in and visit with my professors while I was waiting for my next interview to start, and it was really nice to just get to sit and chat with them and have a good distraction from all the interviews.
And the professors have remained accessible, even now that we have moved fully remote. As I mentioned earlier, I'm a 3L, so I'm working on figuring out what I'm going to do after graduation– to whether I want to clerk, where I want to go, what type of job I want to be doing. And so I've still been meeting with all of my professors on Zoom, and they've all been more than willing to sit down and talk with me, and it has been a really, really invaluable resource.
That's actually one of the main reasons that I really wanted to come to UChicago was because I knew that the professors really valued their students and really cared about their interactions with their students and their relationships with their students. I've met many great mentors because they have been my professors, and I feel very lucky that I've gotten to know them.
We also have a really small faculty, which I think is a great benefit because it means that you can take classes with the same professor more than once. So by the fall of my 2L year, I had already taken, I think two classes with the same professor. So I had already had two professors twice, which meant I just had a better relationship with them and had really gotten to know them better.
So I really value that, and I think that's one of the really, really great benefits that the University of Chicago has to offer. And so next, we're going to head back downstairs to the third floor of the library.
So we're back on the third floor. Now we're in the Student Services Office. So this office has everything– it has our registrar, career services, department– Dean of Students Office, admissions, our graduate students office for LLMs It really has everything. But I think the most important things for you all to know about is first of all, career services and second of all, Dean of Students. So our career services is super, super helpful.
I have met with my career counselor more times than I can count, and they give you individual one-on-one advising, which is incredibly helpful. I'm in the process of applying for clerkships right now, so I've been meeting with our clerkship career counseling team, and they have been so, so, so helpful.
I've been meeting with them over Zoom all the time. They've been really, really helping me out. And even before that, I was working with my career counselor, and she helped me really figure out what I wanted to do, where I should be looking for my summer jobs, and also helped me get two jobs for this past summer.
So I worked at a firm for the first half of the summer. And then at the second half of the summer, I worked at the Colorado Attorney General's office.
And that's one of the great benefits of UChicago. Because we're on the quarter system, we have a longer summer, which really means that you can work two summer jobs if that's something you're really interested in. And the Career Services Office really helped me both figured that out and figure out how I could make that happen for myself.
And then second of all, we have our Dean of Students Office down here.
And they are also a really, really great team. They work with all our student groups. So as I said earlier, I'm a part of the law school musical, and so I work with Robin, and she helps us get everything sorted, have our budgets, manage all of our logistics, and pass all of the logistics down to the next team. They also plan wellness events for us.
So that includes meditation and yoga on a pretty weekly basis, when, again, we are allowed to be in-person.
They also play an orientation and plan in other fun things for students to happen throughout the quarter and especially during finals week. One of my favorites is we have a pancake breakfast that they plan, and all the professors serve us pancakes, eggs, sausage, juice. It's always such a really, really fun event and a really nice way to take a break during finals.
So they're really looking out for you and are really, really there to help you when you most need it.
So now we're in the basement, outside the student journal office, and this is where all three of our journals conduct their main business. So we have three journals– we have Law Review, Legal Forum, and The Chicago Journal of International Law. So Law Review is our flagship journal. It covers all areas of law. They do really, really great work, and they even have a podcast called Briefly, which is super fun.
Their most recent episode is on the privacy of butt dials, which is super interesting and featured one of our professors on it. Legal Forum picks a different theme every year, and they put out one issue each year. This year, the theme is "pandemics." Last year, it was First Amendment, but in the past, they've done #metoo, and they had a theme once that was about The Wire, the show, which I think is super interesting, and of course, is a great excuse to rewatch The Wire.
And then finally, we have The Chicago Journal of International Law, which covers all things international law, as you may have guessed from the title.
But they do really, really great work and are really, really important part of the UChicago community. So in order to get on a journal, everyone has to compete in the writing competition, which occurs during the first week of spring break. There's a writing portion, an editing portion, and a personal statement section. And then everyone who wants to participate can, and then the journals select who they want on their journals from that process. We have, I think, as of this year, we had about 100 spots for students, so there really is the opportunity to be on a journal if that's something you're interested in.
And I think it's, speaking from my experience, it's been a really, really great experience, and I'm very glad I was able to do it. And now we've reached my favorite part of law school, where we have all our law school musical posters. So as I mentioned earlier, I am involved in the law school musical.
And so every year, we create a poster, and our poster gets hung up down here in the basement near our classroom corridor. It's a really fun place to come check out and see what we've done in the past, what clever puns we've come up with before.
This year, we produced the University of Shrekcago Law School, which was a ton of fun and obviously based on Shrek. So it's really fun to see what clever things our fellow law students have done in the past and what we're doing now. And if you're like me, it's a really fun place to come take a study break and just check out all the posters.